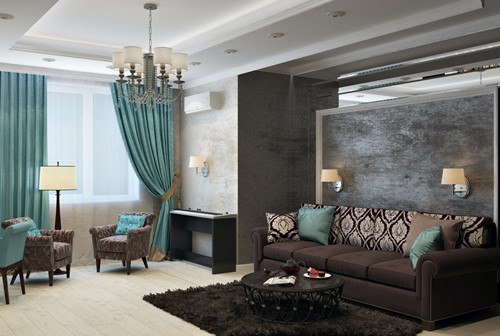 Your living room serves as one of the key areas where family and friends gather in your home. When you're planning your custom home, you'll be able to decide how you want your living room to look in terms of layout. Choosing a layout that works best involves taking certain factors into consideration, so that you'll have a living room that flows well with the rest of your home. These tips and ideas can help you choose the most suitable layout for your living room.
Consider the Size
How big do you need your living room to be? This depends on how much square footage you have to work with, as well as how many people will typically use this room. You'll want to plan a larger living room if you have a big family or if you plan on having friends and family over often rather than just a few times per year. You can choose a smaller living room if your family is small or if you don't entertain guests often.
Plan for Foot Traffic In and Out of the Room
Your living room should make it easy to move in and out of the room to adjoining rooms. Depending on the layout of your home overall, have the main door and doors leading to other rooms placed directly across from each other or next to each other. This helps keep foot traffic to a minimum. If possible, consider having the main door and doors leading to other rooms next to each other in one corner, since this helps maximize wall space you can use for furniture.
Place Windows for Convenience, Lighting and Views
Windows provide your living room with natural light and scenic views. They can also make your living room feel more spacious rather than closed in. Your layout should include wall space for windows in order to maximize natural light and views of the outdoors. Leave as much wall space as possible across from windows, so that furniture can be arranged with these views in mind. Depending on your home's general layout, you might include a large picture window in the front of your living room for stunning views, along with windows that can open and close on the sides of the room.
Plan for Furniture
When choosing a layout for your living room, consider the furniture you'll be putting in it. If you plan to include a sofa, loveseat and armchairs, along with a coffee table, make sure you'll have plenty of space for these items. You'll also need to leave room between them, so people can walk around without bumping into anything. If you plan to have fewer furniture items in your living room, such as a sofa and loveseat only, you might not need to worry as much about having plenty of wall space available.
Consider Permanent Focal Points
Furniture isn't considered a permanent focal point in living rooms, since you can easily move these items around. When choosing a living room layout, include at least one permanent focal point. This could be a large picture window with views of your front yard or a brick, stone or marble fireplace that draws the eye. Your focal point can help determine where other fixtures or features go in your living room, such as lighting.